---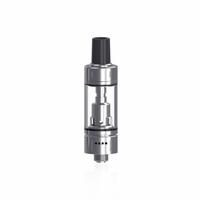 Aspire K-Lite Tank
Aspire
Regular price £8.99
Tax included.
Small size is often confused with small performance. The K-Lite tank system is a proud exception to this rule. Styled to be sleek and streamlined, this 2ml capacity replaceable coil tank is designed to fit neatly on smaller tube and box mods, giving a refined vaping experience with discreet vapour production, ideally suited to Nic Salts and 50/50 E liquid blends.
The supplied coil variants of 1.6ohm and 1.8ohm are perfectly suited to running on lower wattage/voltage devices and will perform best when used in traditional voltage or wattage control modes. Fast and convenient top access juice fill makes the K-Lite the perfect daily use tank, so you can quickly refill the unit and get back to enjoying your favourite flavour, in this small sized marvel. Adjustable micro airflow is easily accessed through a swivel lower tank ring, giving you the ability to tune the vaping style to exactly what you need in seconds.
The K-Lite tank can also accept traditional BVC and Spryte coil variants for added flexibility.

Kit Contents:
1* K Lite tank
1* 1.8Ω nichrome coil preinstalled
1* User Manual